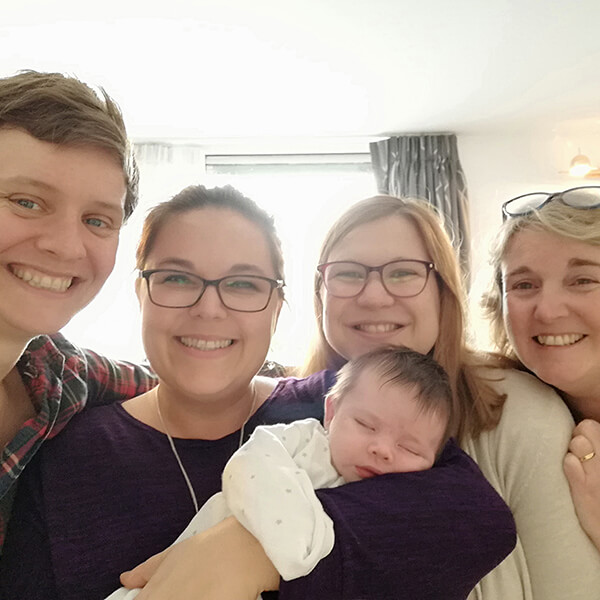 Birth Story 8

November 26, 2019

We are a married, same sex couple originally from the US & Germany. Because Germany has such extensive postnatal care and even postnatal exercise classes – all fully funded by the German health system – we started researching and looking into options. If we wouldn't've found Leonie and Tess, we probably would have tried a German online service instead. At the end of the day, we knew we needed to be able to rely on someone who was properly trained and knowledgeable to guide us as new-born parents rather than just Dr. Google.

While researching, we were concerned by both the brevity of care that was offered as well as – of course – the associated costs. But the saying "you can't take it with you" has never been truer  for us because the confidence and genuine ease which we were able to gain in those early days has continued to be invaluable as we move forward together as parents. Put simply, Leonie and Tess's help was priceless.

What we liked about Leonie and Tess was their blend of knowledge and humour. They not only supported us in getting the "baby basics" right but also actively participated in our journey as new-born parents. As much as we were made vulnerable by our own experience, they shared their own lives with us to guide us along the way.

We chose Leonie and Tess not only because they are (of course) highly skilled, but also because of their humour, relatability and ability to guide us as a couple through a time of change I our lives.

We used Leonie and Tess's postnatal service – but we have already agreed that we would use their services from the very beginning for any further pregnancies.  After finally having successful IVF treatment and a very healthy pregnancy, we found ourselves somewhat unprepared for actual birth and the hurdles that were thrown at us (labour and birth took 3.5 days as we had a little "star gazer"). Coming home after a long, difficult birth, we were bruised, stressed and exhausted. Leonie and Tess's care, extensive network and knowledge of the "ins and outs" of the NHS helped us to put ourselves back together and gain the confidence we needed to succeed as new parents to our adorable child as well as a couple.  It was also great for us just to hear that we were doing a good job with our new baby.

Because of Leonie and Tess, I have been able to breastfeed. Ruth wouldn't latch onto one breast in the beginning, but with patience and guidance by Leonie and Tess we finally got her to also drink from the "bad boob" with pride in any situation e.g. the pub , standing at a consulate counter,  during her blessing on the beach, not to mention busses, planes and trains.  With their guidance we also learned that it is okay to slow down and really listen to Ruth and to put her first. We had been a busy couple before and I think even now we would still be considered busy, hopefully but less so!  They also set up a WhatsApp group specifically for us, so instead of using the internet for answers we texted them and always received fast, very helpful responses – which gave us great peace of mind.

We hired Leonie and Tess as service providers but by the end of our time together they have become part of our family.

Adding a new human to the family is something that most will go through as some time in our lives, but I think it is still almost always a very personal, unique and transformative experience. For us, having someone we really trust at our side who is certified and experienced took some of the fear, anxiety and uncertainty away. Leonie and Tess also eased our transition into becoming parents as well, taking care of our emotional wellbeing as well as ensuring a complete recovery from the strains of childbirth.