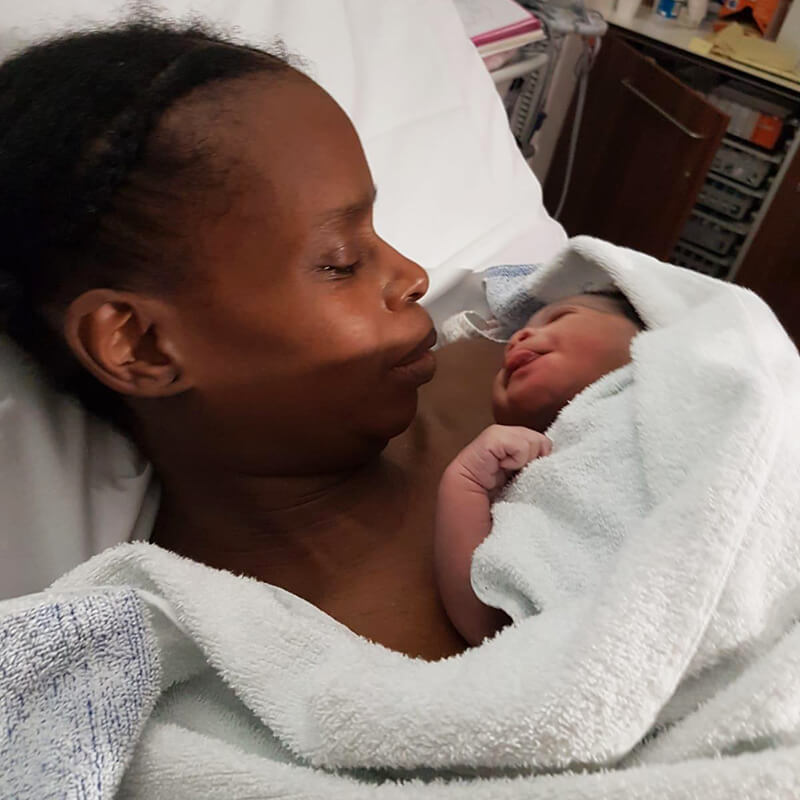 Birth Story 4

November 11, 2019

Hi, my name is Kakra I am now 49 years old. When I was 41 I fell pregnant it was a surprise and a joy unfortunately I miscarried after about 8 weeks, the same happened again when I was 44. Due to my age and the diminishing quality of my eggs meant I had to go down the IVF root. This too was not easy I went through numerous cycles until eventually I fell pregnant at 48. So like many women I was appointed a midwife. My first appointment (12 weeks) with the midwife was data collecting my background and medical history. It was a long appointment and I was surprised that the midwife did not examine me since I had explained that I had fibroids and I was experiencing some pain.

My husband was concerned about this and went online and found 'Your Neighbourhood Midwives'. We arranged an appointment and we met Leonie and Tess at our home.

Leonie and Tess outlined the service they provided all with a cup of tea and no rush. They were warm and friendly and enthusiastic about my pregnancy.

Over the next few months they helped me feel at ease with my pregnancy as I was a bit apprehensive due to the miscarriages. Leonie and Tess not only did home visits they chased up appointments and explained some of the medical jargon I was exposed to. They offered valuable advice on some of the difficulties I experienced in my pregnancy and they were always patient and reassuring.

During the birth couldn't wish for more support they were brilliant guiding me through the labour and really advocating for me during the throws of the delivery. They even fed back to the hospital after the birth of my daughter.

Once Kadiatu was born Leonie and Tess continued to see us Again this was priceless, to be able to have healthcare professionals who were able to spend quality time with and who were genuinely making sure that I was ok and that Kadiatu was doing well. They supported me with breast feeding and recommended various activities and groups for new mums.

This was my first pregnancy and I don't think I would have coped as well without 'Your Neighbourhood Midwives'. I would highly recommend using their kind empathic patient empowering service to make your pregnancy less daunting but a wonderful experience. I salute and thank you ladies!