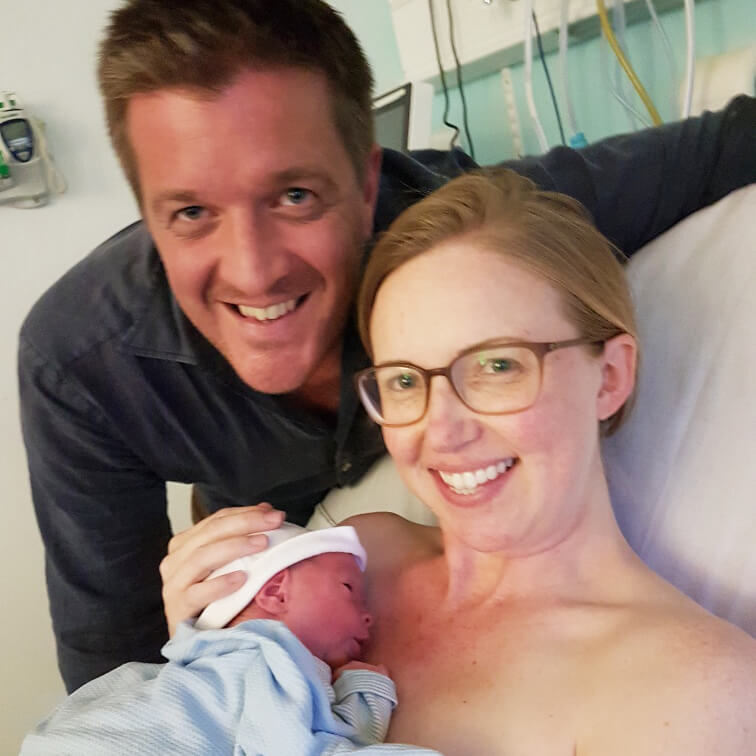 Birth Story 2

November 11, 2019

Originally from the US, I am new to the NHS healthcare system and wanted an extra bit of security knowing I would have continuity in postnatal care with certified, experienced midwives.

I wasn't planning on a home birth, but when Leonie came to the house to assess me I had moved through the first stage of labour much more quickly than anticipated and was fully dilated. Leonie made the call to stay home, and I must say I was relieved. I instinctively knew that things had moved quickly, and I was more comfortable being at home. Leonie brought in Tess to support, and they were both supported / shadowed by Ellie (a student midwife).

Throughout my labour, in the comfort of my own home, I had Leonie's calm and confident voice informing me of every step, every decision. Ellie checked the baby's heartbeat every few minutes, which felt reassuring. Tess was quietly in the corner giving soft words of encouragement, constantly scribbling notes and observations – I am really grateful for this detail when I went through the notes as it gave clarity and colour to an event which I want to remember forever (but which felt very hazy at the time!).

After a slow second stage, I was exhausted and was very close to being transferred into hospital. Knowing my wishes to avoid interventions and medicalised pain management, Leonie and Tess helped me into a new position using gravity to help things along. In the end, my husband sat on an antique chest at the end of our bed and held my entire body weight in a supported squat. Within minutes our son Charlie was born.

The midwives placed Charlie on my chest but acted swiftly when they realised he needed resuscitation breaths. In less than 2 minutes they had him squawking and back in my arms.

An ambulance transferred me, Charlie, and my husband to Kings, where the (NHS) midwife team met us. It all happened quite quickly from there – Leonie helped admit us and ensure continuity of care with the Kings midwife team. Ellie brought me my first cup of sugary tea (which tasted like ambrosia after the night I had just had!)

Without them, I honestly feel I would have had a much different birth experience. But thanks to Leonie, Tess, and Ellie, I look back on the birth of my first child feeling so empowered and so capable, supported by the three fairy godmothers who helped bring my son into the world.

The care I received had a more significant impact on my experience than anything else – more than any of my prenatal appointments, more than any of my other preparations. Your care made my birth experience everything I ever wanted it to be.

It was so helpful meeting Leonie and Tess before the birth. Their personable nature and helpful advice made it feel like we settled easily into a sense of familiarity, so that on the day of the birth I felt the real impact continuity of care can have on the birth experience.

I would recommend other women consider the benefits of having known Midwives present at their birth as well as to support antenatal care. I also had 6 weeks of postnatal care after the birth which gave me the confidence I needed as a new mother – I really looked forward to the midwife visits and was so reassured after each one

I underestimated how much of an impact the midwives would have on my actual birth experience; if we have more children, I could not imagine doing it without them.